The Clash was a brilliant band that had an amazing energy level like the Pistols, but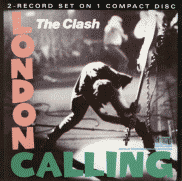 had much more diversity. The debut "The Clash" album from 1977 is great, but "London Calling" from 1979 is a classic. The album has so many different styles and tempos that you will never get bored of it. There are many awesome tracks, including the title track, "Brand New Cadillac", "Rudie Can't Fail", and "Clampdown". Joe Strummer, Mick Jones, Paul Simonon, and Terry Chimes - who replaced Topper Headon on drums - went on to have some commercial success with 1982's "Combat Rock". The edge was gone though. Mick Jones went on to form the club oriented band "Big Audio Dynamite".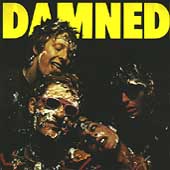 The Damned was the first British punk band to issue an LP, and the first to tour the US. Dave Vanian, Brian James, Rat Scabies, and Captain Sensible played fast and loud on the album "Damned Damned Damned" (1977) which was produced by Nick Lowe. They also issued "The Best of the Damned" in 1980, which captures most of the Damned's best gems, including "New Rose", "Love Song", "Hit or Miss", and "Smash It Up".
The Ramones are viewed by many as the original punk band. They were a part of the original CBGB scene in New York City where so many great bands were launched. The Ramones' self-titled debut was released in 1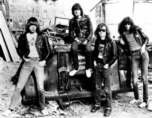 976. They were definitely on the leading edge, but were also very one dimensional. The Ramones are a lot of fun though, and you know what you are going to get. 1-2-3-4-and a ferocious wall of sound. One of my favorite Ramones albums was 1977's "Rocket to Russia". However, if you want to catch up with the Ramones, the best way is to get their "Ramonesmania" CD which was released in 1988. This has all the original classics, including "I Wanna Be Sedated", "Teenage Lobotomy", "Beat On The Brat", "Sheena Is A Punk Rocker", "Pinhead", "Blitzkrieg Bop", "We're a Happy Family", and on and on.
The Dead Boys were an Ohio band that moved to NYC and became a part of the CBGB scene. Stiv Bators, Cheetah Chrome, Jimmy Zero, Jeff Magnum, and Johnny Blitz released "Young, Loud, and Snotty" in 1977. "Sonic Reducer" was a hard driving track. Stiv Bators went on in the MTV 80's with his band "Lords Of The New Church". Ironically, the most famous Dead Boy is now Dead. Stiv was hit by a car in Paris on 6/4/90, and died from his injuries.
Siouxsie and the Banshees were an important part of the original British punk movement. They leaned more to the artsy side, but really added dimension to the entire punk sound. "The Scream" was released in 1978, and included the track "Hong Kong Garden". I really like a later release, "Kaleidoscope" (80) which contained the haunting tracks "Happy House" and "Christine". Whether you classify them as punk, goth, or art-noise, they have a unique sound that added diversity. (Click here to see a big picture of Siouxsie.)
The Buzzcocks were a punk band that perfected the catchy hook. Their songs were high-speed, but with a pop quality, and the lyrics were both humorous and obnoxious. Their 1979 release "Singles Going Steady" is loaded with amazing tracks, including "Orgasm Addict", "What Do I Get", and "Ever Fallen In Love?". Vocalist Pete Shelley went on to further fame with a solo career.
The Dead Kennedys were on the very tail end of the first wave. However, their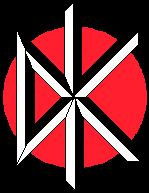 debut album, "Fresh Fruit For Rotting Vegetables" (80) is one of the best albums of the punk era. They tackled social and political issues, and managed to offend almost everyone. "California Uber Alles", "Police Truck", and "Chemical Warfare" are all frantic, hardcore classics. "Holiday in Cambodia" is a punk masterpiece, and one of the most recognizable anthems from the era. The DK's had San Francisco roots, and front man Jello Biafra once ran for mayor.
Gang Of Four was another group which added diversity to punk. They combined feedback, howling, and a pounding rhythm to achieve a unique and infectious sound. "Entertainment" (79) was a fantastic album. However, a great way to catch up the Gang Of Four is by picking up their best-of compilation "A Brief History Of The Twentieth Century". Some of their best tracks are "Damaged Goods", "Anthrax", and "Not Great Men". My favorite track is "To Hell With Poverty" which was originally recorded later, in 1981.
Elvis Costello started out as an angry young man. He has had an amazing career,
and has produced a very broad and creative body of work over the years. However, I will always most love the first two albums he released. "My Aim Is True" (77) contained the tracks "Watching The Detectives", "Alison", "Less Than Zero", and "Miracle Man". He released "This Years Model" in 1978 with the tracks "Pump It Up", and "Radio Radio" - which was played in his legendary SNL appearance after he cut away from the pre-approved "Watching The Detectives".
The Talking Heads went beyond punk, but they were an integral part of the CBGB set in NYC. In late 1997 I attended a live performance by David Byrne that he was recording for PBS. I was still in awe of his multidimensional talent, and
Photo by Joe Stevens. Credit
CBGB
site
was even more impressed at how fit and young the guy looks after twenty years of rock stardom. The Talking Heads were by far the most successful band to come out of the original CBGB era. "Talking Heads 77" had the tracks "Pulled Up", "The Book I Read", and "Psycho Killer" - which unfortunately lent itself well to frat parties. The Heads went on to produce many great albums. Although it is not punk, I believe 1980's "Remain In Light" is one of the best albums ever.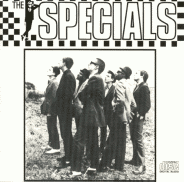 The punk era spawned an array of different sounds and styles. One style that became prominent was Jamaican influenced ska. The Specials were the masters of ska. Selecter was another good band. One of my favorites was The English Beat, whose 1980 album "Just Can't Stop It" had some great tracks to dance to, including "Mirror In The Bathroom", "Twist and Crawl", and a version of "Tears of a Clown". The Beat split off into two 80's bands, Fine Young Cannibals and General Public.

Many punk historians are getting mad at me by now because I haven't mentioned the band Television . Television was co-founded by Tom Verlaine and Richard Hell. They were original members of the CBGB scene in NYC. I always found their sound to be more artsy than punk. Two minute long loud, fast songs were not their style. However, they were an extremely important and influential band. Check out the 1977 album "Marquee Moon", and judge for yourself. Richard Hell later formed a band with the Voidoids. They released a classic punk album "Blank Generation" which contained the title track and a song that always makes me smile, "Love Comes in Spurts".

Another band I personally enjoyed from the era was The Undertones. They were an Irish band with a very retro pop sound. Their self titled 1979 album showcased the vibrato vocals of Feargal Sharkey. Some great tracks on this Irish band's first album were "Jump Boys", "Teenage Kicks", "Jimmy Jimmy", "Get Over You", and "Girls Don't Like It".

I have only listed the bands I feel best define the first wave of the punk era. Some bands you might have expected here may end up on my New Wave, Pre, or Post Punk lists. There are many other punk era bands. Some important ones to check out are: Johnny Thunders (this former NY Dolls member formed a band The Heartbreakers , and also had a solo career), The Jam (the Mod sound), Public Image Limited (P.I.L. - John Lydon, a.k.a Rotten, formed this band after the Pistols), Gun Club ("Sex Beat"), Lene Lovich ("Lucky Number", "New Toy"), Cockney Rejects, Plasmatics, Vibrators, Stiff Little Fingers ("Alternative Ulster"), The Slits, Sham 69, Crass, UK Subs, Discharge, Exploited, Chelsea, Adverts, Eddie and the Hotrods ("Do Anything You Want To Do"), Only Ones ("Another Girl Another Planet"), The Stranglers, and Xray Spex - who had the classic punk single, "Oh Bondage Up Yours".

Copyright © 1998. L. Scott. All rights reserved.